Shopping Cart
Your Cart is Empty
There was an error with PayPal
Click here to try again
Thank you for your business!
You should be receiving an order confirmation from Paypal shortly.
Exit Shopping Cart
Your local Credit Union, investing in the future of OUR community
Frequently Asked Questions:
ACCOUNTS:
Are my funds federally insured?
Yes. Your deposits are insured to at least $250,000 by the National Credit Union Administration (NCUA), an agency of the federal government.
How do I remove a joint owner from my account?
The joint owner can send a note instructing us to remove their name (signature notarized) or we can close your existing account by opening a new account and transferring funds.
APPLICATIONS AND FORMS:
Where can I find frequently used applications and forms?
Visit our CREDIT UNION SERVICES tab for an online loan application and member application.
Or visit us at our office.
MEMBERSHIP:
What is a credit union?
A credit union is not-for-profit financial cooperative that is formed by people with a common bond. Credit unions are owned and operated by the members it serves. Members of credit unions pool their assets to provide loans and other financial services to each other.
How is a credit union different from a bank?
Banks are for-profit companies that exist to generate high levels of profit for their stockholders. Bank stockholders elect a paid board of directors to run the bank and to financially benefit stockholders, not the bank's depositors. Credit unions are not-for-profit organizations that were founded on the idea of "people helping people". They are member-owned and exist to serve their members, with a volunteer board of directors.
What are the minimum qualifications for a loan approval?
You must be employed or have a verifiable source of income, the ability to repay the debt and a stable credit history.
What type of income verification is required for self-employed individuals?
We require copies of your tax returns from the two most recent years.
Are there any prepayment penalties for paying off a consumer loan?
No, you can pay off any consumer loan without incurring a prepayment penalty.
**Rates are based on credit score. Please call us to finalize your rate**
Vacation Loans are available year round. They are 18 month terms, $1,800 maximum amount and rates start at 7.74%.
Holiday Loans are available in November and December. They are 12 month terms, $1,200 maximum amount and rates start at 7.74%.
**We also have Share Loans available at a flat rate of 3.50%. Shares are pledged as collateral and there is no credit check.**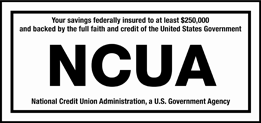 0

/